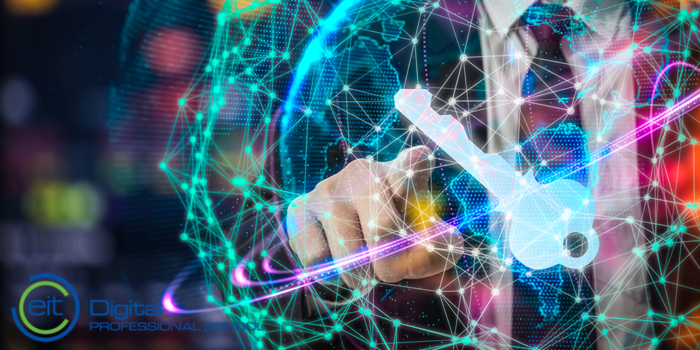 Gain the cutting-edge cybersecurity awareness necessary for your effective management decisions using the best european approaches shared by experts.
Cyberattacks. Potential business impact. Risk assessment. Human factors. Cybersecurity management. Privacy regulations. Cybersecurity is no longer a technology-only issue. It affects almost all functions in your organisation.
Attend this programme to explore the European tech champion approaches to evaluate and face these threats. In this programme designed for senior management, our experts will share with you industry best practices through lectures, business cases, and company visits.
Cybersecurity 360 programme is a collaboration between EIT Digital and UC Berkeley.
What the programme covers 
Cybersecurity in Industry 4.0
Network security
Security in IoT
GDPR: Compliance, enforcement and consequences
Cybersecurity governance and management
Technological threats
Corporate cybersecurity
Topics in cybersecurity for specific technical systems
Social engineering techniques
Cybersecurity risk and liability
Data privacy and security
Objective 
Make your business cyber-resilient: optimise prevention and react fast!
Key Take-aways
Learn about different types of cyber-attacks and the risks they pose to your organisation
Understand fundamental cybersecurity principles and their application to key technical systems
Explore topics in cybersecurity governance and management that are critical to your business.
Examine how to improve cybersecurity in your organisation
Consider how leading European and US tech companies prepare for and manage cybersecurity challenges and data privacy
Connect with peers and experts
Cybersecurity 360 fact sheet
Cybersecurity 360 Programme
Who should attend
Executives of companies with significant IT-related activities
Managers responsible for cyber-resilience of products and processes (IT, R&D, Communications, Legal, etc.)
Sales executives for suppliers of cybersecurity solutions
Public officials responsible for the cybersecurity of their organisations
EU Faculty representatives
Vïctor A. Villagrá
Cybersecurity Masters Director at the Polytechnic University of Madrid and Cybersecurity 360 Programme Faculty Lead
Jan van den Berg
Professor of Cybersecurity at TU Delft and Leiden University and Scientific Director of the Cybersecurity Academy, The Hague
Aurelie Pols
Data Protection Officer at mParticle
Juan Caballero
Deputy Director at the IMDEA Software Institute
Bruno Crispo
Chair of the Cyber-Security Laboratory and Associate Professor at University of Trento
Christian Haas
Group Leader, Securely Networked Systems at Fraunhofer IOSB
Manuel Carpio
VP of CONTINUAM
Prices
Per participant: 5.000 €
Registration is binding.
Dates & location
November 26-30, 2018 in Munich, Germany
Certificate
A digital, smart certificate will be delivered upon completion of the programme
About the EIT Professional School
Investing in digital transformation skills is essential for society, companies and organisations today. The EIT Digital Professional School supports this with action-based learning in cooperation with international partners: learning that integrates theory and practice in the actual business context.
Anmäl dig här
[contact-form-7 404 "Hittades inte"]
Evenemanget har redan ägt rum och därför går det inte att anmäla sig.
Evenemanget
Datum:
26 november 2018
Tid:
26 nov - 30 nov
Plats:
Satellite Co-Location Center , München, Tyskland
Adress:
Guerickestraße 25, 80805 München, Germany
Kostnad:
Pris per deltagare: 5.000 €
Bra att veta:
Anmälan är bindande.
Hotell i närheten av Satellite Co-location Centre:
Ibis Munich City North: 5 minuters gångavstånd
Munich Marriott Hotel: 10 minuters gångavstånd
Pullman Munich: 10 minuters gångavstånd
INNSIDE Munich: 10 minuters gångavstånd
Ibis Munich Parkstadt Schwabing: 15 minuters gångavstånd
För upplysningar kontakta
stockholm@dfs.se

Om arrangören
EIT Professional School
EIT Digital is a leading European digital innovation and entrepreneurial education organisation driving Europe's digital transformation.
EIT Digital delivers breakthrough digital innovations to the market and breeds entrepreneurial talent for economic growth and improved quality of life in Europe. It does this by mobilising a pan-European ecosystem of over 156 top European corporations, SMEs, start-ups, universities and research institutes.

Nätverksledare/Arrangörer